Sporting and Other Enrichment Events
We are a very active school!
Over the course of the year, our children have the opportunity to practice and train for a number of different sports with our PE team.
We regularly hold in-school tournaments where children compete against one another, and we also attend other local sports tournaments / festivals with other schools throughout the year.
These include mixed soccer, tag rugby, sports hall athletics, cross country races, Tri-golf, Quickstix hockey, Kwik cricket, tennis, archery, basketball, and quad kids (mixed athletics).
We also hold an annual School Games Day, as well as our traditional school sports day where children get the chance to participate both as part of a team and also individually.
We also host a number of after-school sports clubs including table tennis, gymnastics, basketball and soccer.
Our active lunchtimes include organised playground games, and also the chance to take part in different personal sporting challenges from time to time.
Woodford Halse Cross Country Races
On another very windy day, we took 40 excited children to the annual Woodford Halse cross country races against runners from over 25 other local schools. The 1 lap course includes lots of ups and downs, some small streams and narrow paths.
The races were fast and frantic, with every runner receiving a score based on their finishing place, so there are both individual and team medals up for grabs. It was great to see so many parents, carers, brothers and sisters turn up and cheer everyone along, along with our old PE coach Mr Marriott!
Congratulations to everyone who took part. In particular, the year 3 &4 girls team, who have made the most appearances at our regular lunchtime running clubs with Mr Elliott, which really showed on the day as they achieved 1st position overall, with Maisie finishing in a fantastic 6th place.
Mrs Reed enjoyed her first trip to Woodford Halse to support the children and is already looking forward to next year!
Lunchtime Sports Clubs
We have different lunchtime sports clubs running over the year. Here are some of the children enjoying our athletics club recently.
Cross Country races at E.W.S. (Roade)
On a very windy but thankfully dry day, 32 children from years 3-6 participated in cross-country races at E.W.S. against seven other local schools. All the children had been training at lunchtimes, in their P.E. lessons, or with their local sports teams and clubs outside of school, all of which helps to build the stamina required to run for 1.2km (years 3 and 4) and 1.8km (years 5 and 6).
Once again, the cheering and encouragement from all children to their friends was great to see.
The team results were calculated by using the positions of the three fastest runners from each team, as follows:
Year 3 & 4 girls race - 3rd
Year 3 & 4 boys race - 2nd
Year 5 & 6 girls race - 1st
Year 5 & 6 boys race - 3rd.
In addition to the fantastic team results, there were also some exceptional individual performances.....
In the Year 3 & 4 girls race, Lyra finished 3rd.
In the Year 3 & 4 boys race, Jack finished 2nd and Ruben finished 5th.
In the Year 5 & 6 girls race, Tru finished 1st, Victoria 4th and Eve 5th.
In the Year 5 & 6 boys race, Thomas finished 2nd and Jack finished 4th.
Well done to everyone in the team.
Challenge of the Month
Over 35 children took part in our most recent monthly lunchtime challenge. This month's theme was tennis, with children hitting the ball against a wall as many times as possible, with only 1 bounce allowed between shots. It was great to see so many children beating their own personal best score as the month went on.
Tag Rugby Festival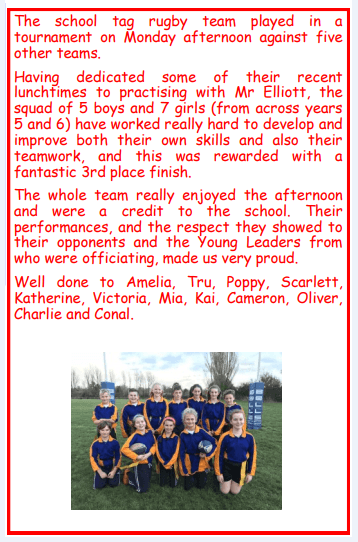 Year 5 and 6 Archery
Children in years 5 and 6 enjoyed an archery taster session recently as part of their P.E.
After learning about safety and the different equipment, it was time to practice their shooting skills before splitting into teams and shooting against their friends in different target competitions.
Year 3 and 4 football
Children in years 3 and 4 enjoyed an afternoon football tournament on our school field.
After the warm-up, the children split into six teams and played each other once in a mini-league before waiting for the results to be announced. After the points were added up, Team 6 were our winners this time.
It was lovely see the sportsmanship and respect shown to opposition teams and friends, well done to everyone who took part!